A proven alternative to chlorine dioxide for small and large hot and cold water systems. Direct current electrolysis of brine (sodium chloride) generates a pure oxidant (NEUTHOX ®) on demand.
This system is available in four sizes, depending on application and usage enabling direct injection in to your water system. Choose between: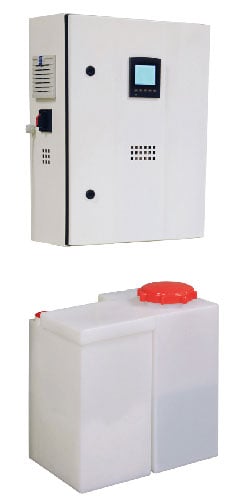 T05N for <20m3 (see photo below)
T10N for >30m3
T15N for >40m3
T20N for >125-400m3
At a glance
Complete control within a cabinet (local regulation and monitoring)

Water softener (produces NEUTHOX ® by removing calcium)

ORP sensor

Salt container (sodium chloride container and brine process solution)

NEUTHOX ® storage tank

Dosing pump

Injection device

External communication for monitoring
System benefits:
Chemical free and low operating cost – this is an environmentally responsible alternative to chlorine dioxide generators and can be more cost effective to operate.

Enhanced health and safety – no hazardous chemicals or manual handling or storage issues

Flexible – available as a retrofit, hire, mobile or permanent solution in varying sizes to cater for water usage

Finance support available – for the purchase and first year's maintenance if you want it enabling you to spread capital investment expenditure across 1-5 years

Approved – fully Article 95 compliant; Biocidal Product Regulation approved for potable and process water; Drinking Water Inspectorate approved; NHS approved
Enquiries or Questions?