Our UK designed and built Hevasure Closed System Chemistry Monitoring solution is award-winning and provides an intelligent compliance and system management support tool for site engineers and duty holders.
Used across large sites, universities, commercial offices, data centres, chilled warehouse distribution sites, hospitals and other applications, it can be retro-fitted, hired for 3-months as a health check or installed permanently.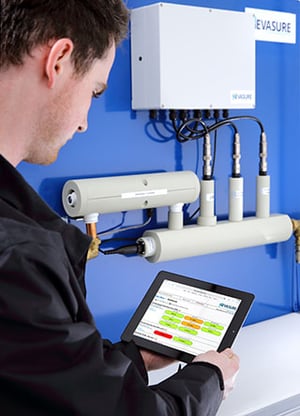 The system monitors:
System integrity
Dissolved oxygen
Pressure
Temperature
Water make-up
Water characteristics
Conductivity
pH
Microbiological risk
Corrosion
Galvanic currents
Crevice corrosion
System benefits:
Risk reduction – monitors valuable assets 24/7; helps you detect conditions that lead to corrosion; reduces equipment breakdown and catastrophic failure; reduces call-outs; provides peace of mind; provides indisputable data that will help you extend asset life and avoid system failure

Supports compliance with BG29/2012 and BG50/2013 – proves your closed system is properly managed; useful commissioning tool between hand-over and asset operation; identifies system / installation / set-up defects; provides a comprehensive suite of tools for on-going system operation; demonstrable record of diligence and duty of care

Environmental impact – keeps systems in pristine condition and cuts energy bills; carbon emissions are reduced; reduces use of chemicals

Strategic application – useful for Facilities (Estate) Managers who take over problematic sites; when system performance is impaired; when building operators / owners are investing in new systems; in critical operating / system conditions such as Hospitals, Data Centres, Media Centres, HQs etc
Enquiries or Questions?