Closed circuit systems are susceptible to corrosion, which can negatively impact the function of the system. The good news is that the low make-up of a closed system allows us to dose water treatment products at much higher levels than in open systems, where water is constantly lost to drains. Corrosion control can therefore be more easily achieved in closed circuit systems.
At B & V Chemicals, our closed circuit inhibitors are specially formulated to ensure that, at the recommended dose rate, they give the best possible corrosion protection to the metals present in the system.
The inhibitor formulations, for use in hard water, also contain antiscalants to minimise the deposition of scale, and polymers to prevent deposition of suspended solids.
In this blog post, we look at the testing process for ensuring our closed circuit inhibitors are as effective as possible.
Laboratory testing
Extensive laboratory testing has been carried out on all our closed circuit inhibitor formulations to ensure that optimal corrosion inhibition is achieved for all metals the inhibitor has been designed to protect. Duplicate testing is done in hard and soft water to determine whether water hardness affects the corrosion inhibition package in the formulation.
We have also tested our products against those of other leading brands in the market.

A new closed circuit inhibitor formulation is only launched when the technical team at B & V Chemicals is completely satisfied with the performance of the new formulation.
Independent performance testing
We have Buildcert (now called NSF CIAS) approval for our multi-metal inhibitors Polyhib VX0.5 (BV1048) and Polyhib CH (BV202).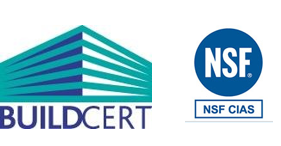 This approval involves extensive and rigorous independent testing. Chemical inhibitors are tested in BuildCert NSF approved laboratories. The inhibitor is tested against the exacting requirements of the NSF Approval Scheme (CIAS). Polyhib CH and Polyhib VX0.5, at recommended dosage rates, passed all parameters of this independent testing.
NSF CIAS (Buildcert) approval: corrosion inhibition testing for Polyhib VX0.5 at the end of the recommended contact time

All metal coupons were in perfect condition at the end of the testing. This indicates how effective Polyhib VX0.5 is at inhibiting corrosion for all metal types generally found in closed circuits.
What does NSF CIAS (Buildcert) approval mean to us/our customers?
The NSF CIAS (Buildcert) approval is independent verification that Polyhib VX0.5 and Polyhib CH work as excellent corrosion inhibitors, prevent the build-up of scale, are compatible with non-metallic components and have a low environmental impact.
If a system suffers from corrosion or scaling it is often the case that the end-user comes to the conclusion that the inhibitor used is ineffective. It is important that water treatment chemical companies have independent verification that these products work effectively (when dosed and maintained at the correct concentration.)
Newer systems are more complex and often have aluminium boilers. The complexity of these systems makes it more critical that we, and our customers, have complete confidence in the performance of the inhibitor in use. For this reason, we have chosen to obtain Buildcert approval for our premium multi-metal inhibitors Polyhib CH and Polyhib VX 0.5.
To find out more about our closed circuit inhibitors, please get in touch with our technical team.